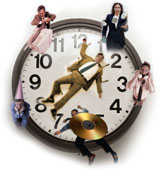 Consider your existing brand, logo, collateral, and primary audience. We take into account your budget, who your customers are, and what your business is all about. That's because we don't want to create a cookie-cutter web site. Please understand: we don't have anything against cookies (in fact, we have bonded with chocolate chip cookies while working late to meet client deadlines many a time). However, we think that your company deserves a personalized web site that works for you - not for just anyone in your field. We create a web site that is as unique as your company To be accessible, web pages and sites must conform to certain accessibility principles. These accessibility principles are known as the WCAG when talking about content. These can be grouped into the following main areas.[1]
* Use semantic markup that provides a meaningful structure to the document (i.e. web page)
* Semantic markup also refers to semantically organizing the web page structure and publishing web services description accordingly so that they can be recognized by other web services on different web pages. Standards for semantic web are set by IEEE
* Use a valid markup language that conforms to a published DTD or Schema
* Provide text equivalents for any non-text components (e.g. images, multimedia)
* Use hyperlinks that make sense when read out of context. (e.g. avoid "Click Here.")
* Don't use frames
* Use CSS rather than HTML tables for layout.
* Author the page so that when the source code is read line-by-line by user agents (such as a screen readers) it remains intelligible. (Using tables for design will often result in information that is not.
We design a great site, using all the tools available. Photoshop, tablets, HTML, Illustrator, caffeine - we use all the latest and most established technology to create a web site that is visually appealing and yet fully functional. And we listen to you when you give is feedback and ideas, so that we create the web site you want - just not any web site.